Join the Athletic Club
Get your favorite brews delivered monthly, plus exclusive perks like discounts on your orders, first access to limited-edition brews, and members-only merch.
subscribe now
Save up to 15% + FREE shipping on subscription orders!
your favorite beers delivered monthly
save up to 15%+ Free shipping

Skip, edit, cancel anytime. you're in control
first access to new brews+ exclusive merch
How It Works
subscribe to your faves
Choose the brews you want.
Enjoy & save up to 15%
Plus extra perks.
Cancel or skip anytime
No hard feelings.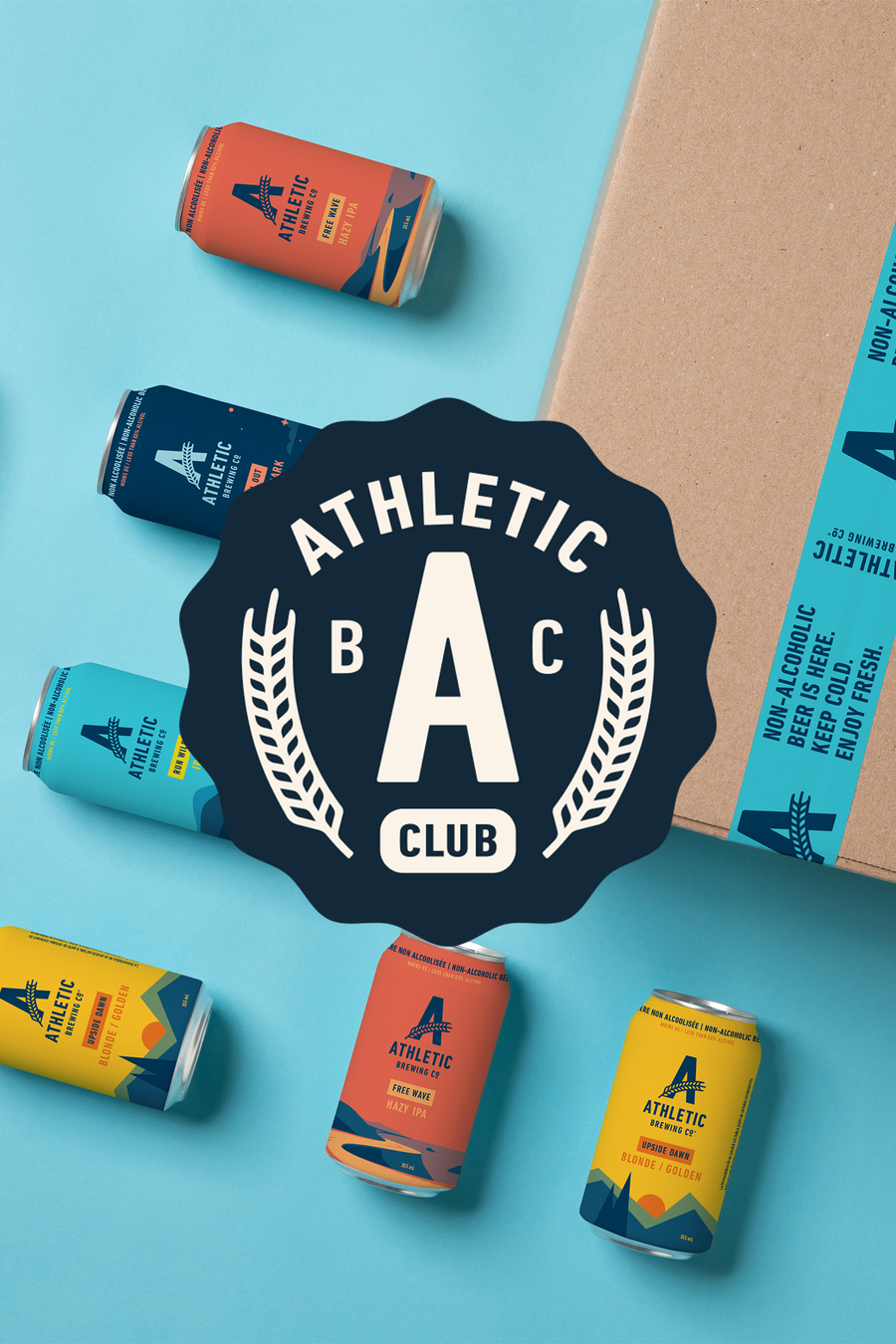 The Athletic Club - Subscription
Save up to 15% + FREE shipping!
Never forget to re-order your supply of beer with The Athletic Club. You'll receive a custom package of fresh beer every month. Plus exclusive discounts and much more. Your plan can be modified or cancelled anytime. 
As a club member, you have:
• Custom monthly beer deliveries
• Discounts on monthly shipments (up to 15%!)
• 10% Discount on any additional orders or products - only available to club members
• More perks coming soon!

 
Hint: You can get multiple subscriptions to customize your monthly package…

As always, free shipping for 12-packs or more.
📦 Ships to all provinces – excluding Quebec

"This is truly one of the few AF beers that delivers the same craft beer spirit that inspires me to open a beer at the end of the day. Plus, since it is alcohol free I can even enjoy one during the day, which I'm not mad at either!"
Emily D.
Score: 10/10
Amazing taste, helped me stop drinking alcohol during the week. Amazing product.
Nathan M.
Score: 10/10
Great product. Best none/low alcohol beer I have tasted. Great customer service too! Keep up the good work!!
Mike A.
Score: 10/10
Good beer. Easy ordering. Relatively easy shipment.
James D.
Score: 10/10
Frequently Asked Questions
What is the Athletic Club?
Athletic Club is a monthly subscription that allows you to get your favorite brews on repeat. You can cancel or skip whenever you want, plus you get bonus perks and discounts.
Why should I subscribe?
When you subscribe to Athletic Club, you receive exclusive perks like up to 15% off everything in our store and free shipping. Plus you get first access to new brews and exclusive offers.
How will I receive my exclusive members perks?
Your perks are automatically applied to all your purchases. Just make sure you are logged in with your subscription account and you are all set to reap those sweet rewards.
Where do you ship?
We currently cannot ship products to customers located in certain regions. Without limitation, these provinces include PRINCE EDWARD ISLAND.

We are able to ship Run Wild and Upside Dawn to Quebec and hope to offer more products in the near future!
Can I really cancel, change or skip whenever I want?
Yes, you can skip as many months as you like, change your delivery frequency, the number of brews you get each month and even cancel your subscription whenever you'd like. You are in complete control, we just want you to love your brews.
When should I expect to receive my order?
You're in control of your delivery schedule and frequency. We'll ship your brews out 3-5 days after your monthly renewal date and send you tracking information so you keep an eye out for your brews.
Disclaimer: *This promotion only applies to the Athletic Club Subscriptions. Add qualifying item(s) to cart, and the price will be adjusted for the Athletic Club first month's subscription charge. Valid for one-time use only. Valid for first-time subscribers only. Limit one 2x Summer Savings Special Subscription offer per customer, and a maximum of six (6) 6-packs. After the first month's charge, normal pricing will resume. This promotion cannot be combined with other discount offers except where indicated and it may not be applied to previous purchases. While supplies last. Void if altered, copied, transferred, auctioned, or sold. Use of this promotion constitutes acceptance of these terms and conditions, except where prohibited by law. Offer ends 9/4/2023 at 11:59 PM ET.

Does not apply to taxes, additional fees, shipping and handling, or products purchased through third parties. Not redeemable for cash, gift certificates, or gift cards. We have the right to cancel/void purchases of restricted items, such as gift cards. This offer has no cash value. Return of discounted item(s) will be for the price actually paid and the value of this offer will be forfeited. Other restrictions may apply.