Two for the Trails Update: Bay Circuit Trail
by / Aug 26, 2020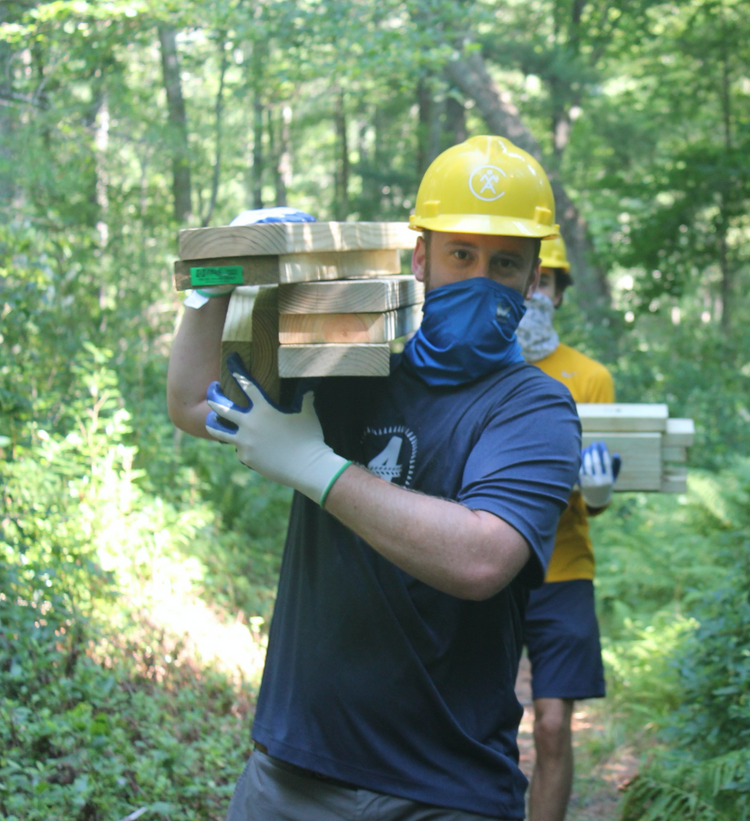 This week our team had our first Two for the Trails work-day of 2020. In support of our partnership with the Appalachian Mountain Club, we teamed up with members of the AMC to install two boardwalks along the Bay Circuit Trail. The BCT is a 230 mile path that encircles the city of Boston and the portion of trail we worked on runs through Borderland State Park in Easton, MA. The construction of the boardwalks will be pivotal towards preserving areas of the trail that are sensitive to water and flooding.
In order to begin construction, our team took multiple trips from the trail head to each work site hauling lumber. Each site was over a half-mile downtrail.
Once we had our supplies at each site, we used axes, pick-mattocks, pulaskis, and our hands to prepare for installation. We used hammers and nails to secure each plank and supporting 4x6 of the boardwalk.
The boardwalks will ensure that this portion of the trail will be able to sustain its many uses – these include running, hiking, backpacking, snowshoeing, crosscountry skiing, biking, and even horseback riding. Our donation and trail work efforts will ensure that the trail can support such great usage for years to come.

At Athletic, trails bring us as much joy as cracking one of our brews. That is why we are proud to devote 2% of every beer we make and sell towards their conservation. We look forward to seeing you on the trails with one of our brews soon!
-Team Athletic