Continuing Without Compromise
by / Aug 19, 2020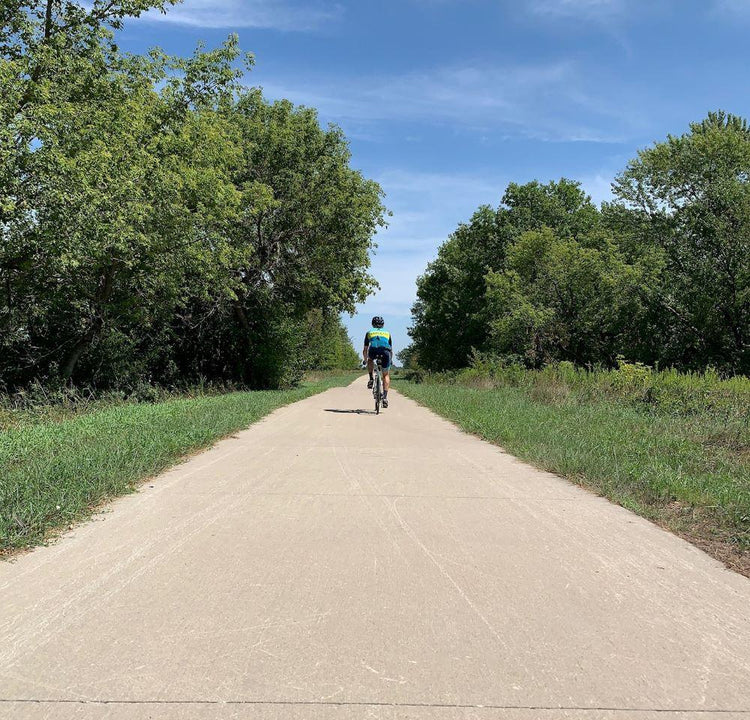 On August 1 a small group of committed cyclists and coordinators from Athletic Brewing set out on a journey to bicycle from our brewery in Connecticut to our new brewery in San Diego. The 3,100-mile journey is an effort to celebrate this coast to coast expansion in a way that made sense to us; unconventional, adventurous, and without compromise. 
The first two weeks have been filled with hurricanes, tornadoes, sunshine, empty highways, and busy city streets through America's most charming communities and countrysides as each of our 5 riders successfully pedaled the segments of the country they committed to. 
Despite the usual setbacks of chasing a goal this audacious, the journey had been a fun, safe, and exciting adventure to be a part of. On Friday, August 14 that all changed. 
As our rider, Chris Bayly, had finished his committed segment of 334 miles across Illinois and parts of Iowa, I was itching to get on the bike and put some miles into the trip myself and to help make the next day of riding slightly easier for the next rider, Lorin.  I, along with Nick Brown, the other coordinator, had been stuck behind the wheel of the support van for the majority of the trip. We agreed that I would cap Chris's epic 100-mile day with an extra 25 miles before heading to our hotel for the night near Des Moines, Iowa. 
About 5 miles into the ride the open road was beginning to feel familiar.  The sun was bright and warm, the smells and sounds of middle-America were all around, and I was starting to get a good sweat. 
In the blink of an eye, I was immediately tossed from that setting into a haze of broken glass and plastic shards flying around my face. A pickup truck (F-150, charcoal gray, mid-2000;s. Almost exactly the same truck I drive) had struck me in the back going 70-mph in a form of intimidation called "buzzing". In my half-dozen cross-country bike tours, nothing like this has ever happened. 
As the parts of the side-view mirror flew past me and the pain of being struck shot up my back, shoulder, and neck, I miraculously wasn't tossed off the bike or under the wheel of the truck. With instincts kicking in I instantly tried to burn the image of the vehicle's license plate in my mind. 
It was too late. The truck was moving so fast I couldn't make out the plate numbers and letters even a split-second after the banging of being hit. The brake lights never engaged and the truck gracefully eased back into the lane like nothing even happened. 
I came to a stop and took stock of my limbs and body to make sure adrenaline hadn't masked any life-threatening injuries. I didn't take the time to think about the fact that my handlebar had scraped along the entire length of the truck and merely inches further to the right would have ended my life entirely, making my wife a widow and my 1-year-old son left fatherless. 
I then called Nick and Chris who were in the support vehicle just a few miles ahead to look for a truck with a missing passenger-side mirror. Nothing. It was gone. 
Filled with anger and adrenaline, I picked up the pieces of the mirror that I could find and pedaled to the support vehicle up ahead. After Nick and Chris caught up to me and checked my back and body for any serious injuries, I was determined to keep riding. Looking back, that was not a wise decision but I wasn't about to let the recklessness of some stranger cause us to tuck our tails and quit. I decided to finish the miles for the day on a safer and much quieter country road. 
I'm thankfully okay. I'm sore and bruised but ultimately walked away without any serious injuries. I only got emotional when I saw my son via FaceTime later that evening and thought about how we were inches from never knowing each other.
After getting to the hotel that night, Chris and I counted up at least half a dozen intentionally aggressive encounters with other drivers throughout the day. We also did some research about the area and realized that three separate cyclists have been killed in Iowa in the last few weeks alone. Some folks were out for exercise, some were traveling across the country like we are. 
I'm not here to say cycling awareness is the biggest issue of 2020. It's absolutely minute in the vastness of the problems we are facing as a country and as a world right now. However, the aggression shown to cyclists on the road speaks to a larger issue of projecting our passivity and carelessness at best, and anger and aggression at worst, onto others who we do not agree with.
We will not be ending our journey across America by bike from our Connecticut to San Diego brewery. In fact, we will still be logging our same amount of miles, but out of concern for the safety of our teammates, we are restricting the riding to only bike paths in some of the most beautiful places in our nation. Our support van will be stocked with cold beer to share with folks along the trails and as an added bonus, the trip coordinators will use this new opportunity to clean the trails we use and make donations as we go. The journey will be more impactful than it could have ever been before! 
Thank you to whoever you are that hit me. You've given me and everyone involved in this journey an unprecedented perspective on what we are doing out here. We will turn your recklessness into a positive and accomplish more than we even planned for. 
You can hear an audio version of this story on the Adventure Sports Podcast. 
All images by Nick Brown